More important than just the best buy in interior landscaping, we're a growing success story because we make our clients look good. Every day. Our work with interior plants - from design to quality appearance all the time - has made us a standout in our industry.
What's it take to be recognized as the best in your field? It starts with outstanding people. Ours are the best, and the best trained. Our acclimatized plants are grown for us at several specialized nurseries in the U.S. and abroad. To showcase the plants - and access your space - we use containers in many styles, finishes and colors.

How can we improve what you're doing now?

If imaginative design can help, our talented designers can show you new possibilities.
Where you need better quality appearance, we will explain how we deliver it.
When cost control is essential, we can simplify and focus the presentation - which can cut costs dramatically.

What's the best way to handle problems that can occur with living plants? Our horticulturist never stop learning new ways to solve old and new problems. As professionals, we bring in-depth know-how to every situation. The result? A minimum of headaches and problems. Consistently good appearance - all based on a reputation for quality and pride in our performance.

Interior Planting design, installation and ongoing care
Colorful, flowering plant programs
Holiday decorating
Flooring arrangements
Special event plant rentals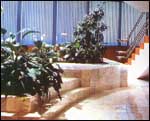 Our interior planting enhance the appearance of building lobbies, offices and a wide range of other interiors.