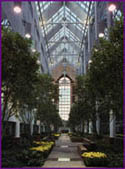 Working with interior designers, architects and property management specialists, we assist in the decision process in the use of plants for interior or urban spaces. Proper lighting, temperature control and humidification is very important for the health of any plant. We take this into consideration before plants are installed.
Illustrations and photographs of plants that will grow under special circumstances are provided along with information on installation and maintenance.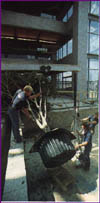 The process of selecting plant materials and placing them appropriately in interior locations is based on several factors, client's needs and preferences, physical features of the space, as well as environmental conditions.
Only quality plants are used, which are supplied by professional interior plant growers, and are selected very carefully with a client in mind.
Before a plant is selected it is inspected closely to assure quality and health. Once reaching our staging area every plant goes through a preventative maintenance program and is "indoor acclimatized" over a period of time. The amount of light, water and fertilizer each plant receives is gradually adjusted according to the type of plant and the location for which it is destined. Installations are completely cleaned, efficiently and without disturbing client work schedules.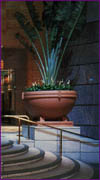 In order to obtain a continuation of the skilled care that the Tropical plants received prior to installation, it is very important to have them maintained by a professional horticulturist.
Our professional, trained staff recognize and respond to problems that might arise due to difficult environments. This is the reason for our confidence in our plant maintenance program.
All plants installed and maintained by Jim's Greenery are unconditionally guaranteed not to lose their vitality and attractiveness or will be replaced quickly at no additional cost to you.